Urban renewal demolition around historic Brick Market, circa 1966.
Preservation initiatives focused on the artistic and historic significance of individual buildings with the aim of preserving the 18th century quarter around Washington Square. The Newport Redevelopment Authority, established by the Representative Council in December of 1949, looked at the entire city, assessing both its physical assets and its economic and social challenges. These and many other organizations and citizens would participate in what can only be deemed both a dance and a boxing match. Sometimes they cooperated; oftentimes not. This situation repeated itself in numerous cities across the nation, where history and renewal worked at cross purposes.


The Newport area was marked principally by condemnation of property, demolition of buildings, digging up of streets, all conversely leading of an anticipated healthy and prosperous future.
— Newport Daily News, 31 December 1966
The city declared by ordinance in January of 1965 the creation of the Newport Historic District, encompassing Washington Square and the adjacent Historic Hill and Point neighborhoods. Just as preservationists celebrated this victory, the greatest upheaval to the cityscape was about to take place. In February of 1965, the city council adopted an urban renewal plan developed by the Boston firm of Izadore, Candeub, Flessig & Adly Associates, which included a four lane highway along the waterfront that would come to be known as America's Cup Avenue and dominate the western end of Washington Square and Long Wharf. The entire zone west of Thames Street, with the exception of the Brick Market, was demolished in 1966 to make way for America's Cup Avenue, and Perrotti Park replaced a large swath of the working waterfront.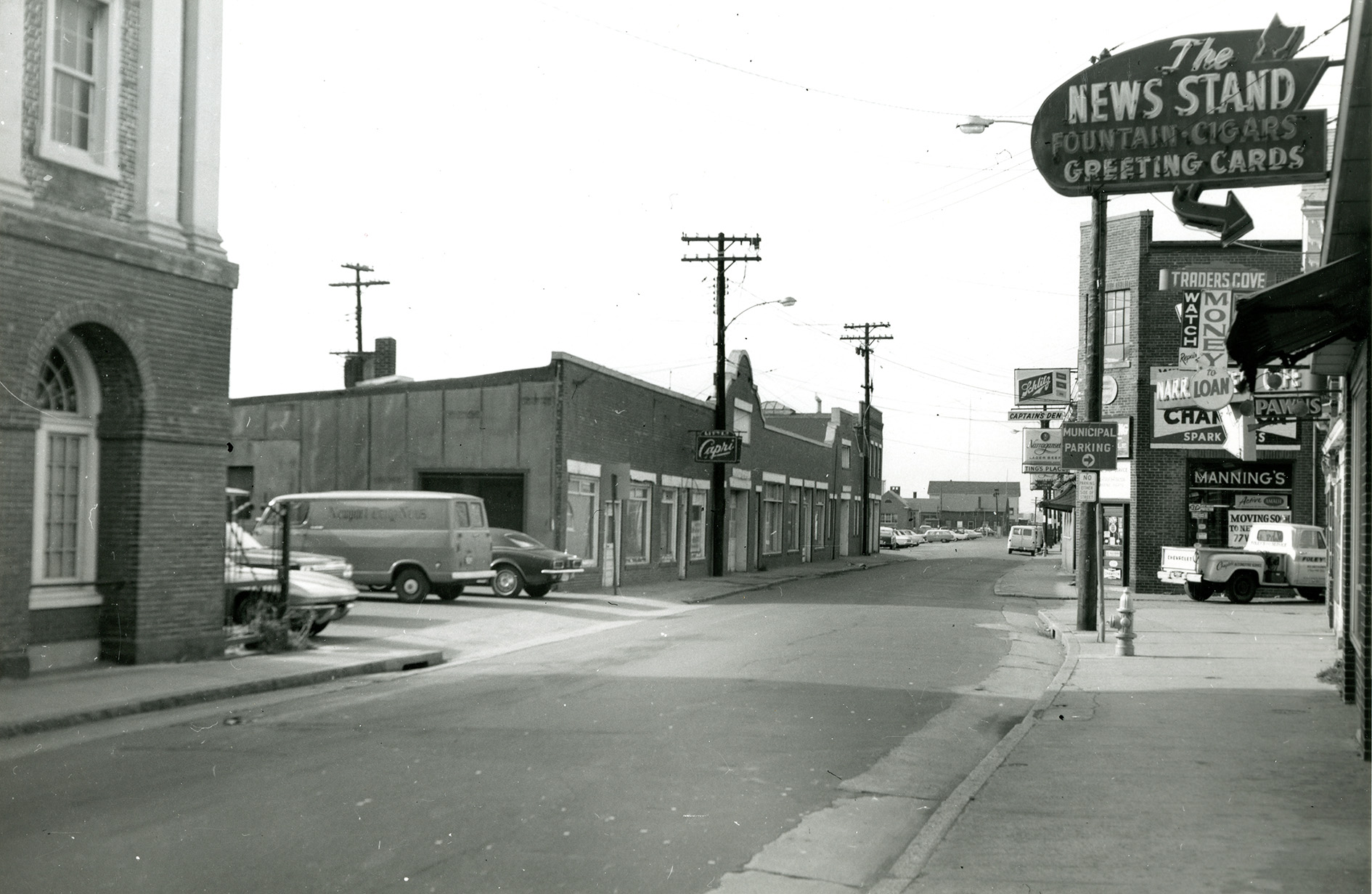 (7 images above: Rhode Island Photograph Collection, Providence Public Library)



Since the newly established Historic District did not include the area from Thames Street west to the harbor, the land was open for redevelopment. Historic preservation and urban renewal now had to co-exist, neither being entirely triumphant. Modern thoroughfares and historic buildings may have been at odds with one another, but they formed the basis of Newport's next incarnation as a place of major tourism, festivals and leisure pursuits. In its three centuries of development, Newport had never been so radically altered as in the late 1960s when it was directly linked to the mainland and a large portion of the waterfront demolished for redevelopment.
Slideshow images above: "Little Liver Pills"
and "Long Wharf Construction
," courtesy of the Rhode Island Photograph Collection, Providence Public Library